We've always advocated the wear of an anti-PM filter mask when the outdoor PM2.5 levels are higher than 75 ug/m3 (or about an AQI of 170).  N95 rated masks or those rated even higher, like the N99 rated Vogmasks are our preference and then it's a matter of having a good fit.
But what about the masks you see in grocery stores, pharmacies, or on Taobao?
Our friend and well-known health blogger Dr. Richard Saint Cyr has launched a new project to test popular pollutions masks for all age groups. It is very kind of him to start this project on his own for your benefits, but now he needs your help to fund it.
Many of you know Dr. Richard Saint Cyr already, but if you are not familiar with him, here's a brief biography.  His project description is below.  Consider helping out – just like public radio, information is not free.
——–
The Project
Are you bewildered and overwhelmed by all of the choices for air pollution masks? Don't you wish you could look at independent test results which compared all of them? Soon you can — because I'm getting these tests myself. Totobobo, Vogmask, Respro, Lvdun 绿盾 — at least 45 of the big names and popular choices will be tested, and I will share the data with the world via my blog and my New York Times column. But I need your help. I need to raise the funds using the Rally.org crowdfunding website here to purchase the masks and pay for fit-testing, and I hope you and others can help pitch in.
Background
I have lived in Beijing for over seven years, working as a family medicine doctor at Beijing United Family Hospital and also helping to improve public health across China via my wellness blog, social media, and health articles. I am also a first time daddy with an amazing son who just celebrated his first birthday, and I am acutely aware of the hazards of air pollution to children and adults. I am convinced that a good air pollution mask can effectively decrease our exposure to PM2.5  (read my blog here,here and here). I see many choices for masks on the market now, but I am sure that quite a few aren't nearly as effective as people think.  Many mask companies are bragging that they are 99% effective against PM2.5,  but where is the proof? Where is the independent data? I have no intention of waiting untold years for this crucial research — I can have that data within a couple of months from today, and I and every other worried parent out there can finally make an educated decision — for your kids and for yourself.
The Plan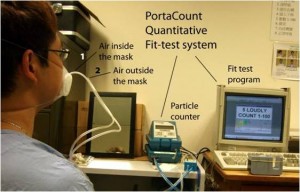 Portacount fit-testing
A company in California, called Fast Response On-Site Testing (FROST), will perform the NIOSH-certified quantitative fit tests. I will buy all of the masks and mail to them for testing on adults and children. The quantitative fit test is the gold standard of mask testing: a person wears it for 15 minutes and performs multiple head maneuvers and breathing rates, and a machine tests the air both inside and outside the mask. (Here are the specs from OSHA). Each tester also will fill out a questionnaire asking whether or not they like the mask and would recommend it to family and friends. To make the data more statistically accurate, I plan to test five samples of each mask model.
All the data will be published on my blog and also on my New York Times Chinese edition health column.
Some of the masks to be tested (5 of each):
Adult masks:
Vogmask
: (2 models: classic, valve)
I Can Breathe 
(2 models: Classic, Sport)
Lvdun 绿盾
 (2 models)
Respro (
4 models: Cinqro, City, Techno, Sportsta)
Totobobo 
(4 models: classic or earloops, 92 or 96 filter)
3M
(4 models: 8210 +/- valve, 9105, 9211)
RZ
(regular size)
---
Children's sizes:
Lvdun 绿盾(4 models: XS 3-6 yrs, S 7-12 yrs; 2 models each)
Vogmask
(3 age sizes, +/- valve)
Respro
: 1 model (Child Allergy)
Totobobo
(3 cut sizes)
RZ
(1 youth size)
---
Major Questions To Be Answered
What's the most effective and comfortable mask for infants, toddlers and children?
Can a 5 RMB disposable be as effective as a 500 RMB reusable?
Exhalation valves — are they more effective for breathing and sports?
Straps behind the ear — do they work as well as straps behind the head?
Exercise — which masks are most comfortable and still effective?
Donations To Roundabout Charity Store
After testing, all unused masks as well as any extra funds will be donated to the non-profit Roundabout charity store in the Shunyi neighborhood of Beijing, where they will distribute to parents and children most in need. (the tested masks need to be thrown away as large holes are punched in them for testing). Roundabout is a wonderful organization, very similar to Goodwill in the USA — so please give them your support if you are ever out there!
Please click here to go to Rally.org and contribute. If you want to use Alipay 支付宝, please transfer to my account under my email at 
 I am hoping to raise $10,000 USD to test all the masks I'd want, but every donation will help. Thanks for your aid, and please spread the word!